Spinnaker Beach Houses, Seabrook Island, South Carolina
ON AN ISLAND KNOWN FOR ITS natural beauty, pristine beaches, concern for the environment and world-class golf, the Spinnaker Beach House community occupies a special place.
On Seabrook Island, where magnificent homes blend seamlessly into the natural environment, the Spinnaker Beach Houses seem to reach out and touch all that make Seabrook a barrier island paradise. Some of the 84 villas are adjacent to the Beach Club, while others are along the lush green fairways of the Club at Seabrook or within steps of the Club's dining rooms, pools and pro shop. A select few face the ocean.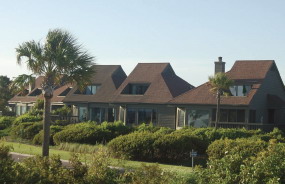 When they were built in the early 1980s, the villa's earthtone-stained wood siding radiated a warmth and coziness that remains today. Inside, large windows provide panoramic views of beautiful Seabrook Island.
The two-bedroom villas house 1,435 square of living space, while the threebedroom versions have 1,635 square feet, but they seem much larger. Residents of the Spinnaker Beach House community have access to the ocean across the street and a wide range of man-made recreational and entertainment options, including championship golf, swimming, a tennis club and several restaurants. Homeowners also can use the equestrian center and ride horses on trails throughout the island and on the beach.
For those who love the beach and the outdoors and enjoy basking in the serenity of living on an island where man and Nature exist in harmony, the Spinnaker Beach Houses are a great place to live.
They also are an excellent investment. Selling for around $100,000 in the early 1980s, they now bring from $575,000 to $750,000.
For information about Spinnaker Beach Houses, Seabrook Island, South Carolina and the surrounding area contact Bill Macchio of Media Services
PO Box 22617
Charleston, SC 29413
Phone: 843-345-7012
Visit my site: http://www.mediaservices1.com
Email Me: bill.macchio@gmail.com